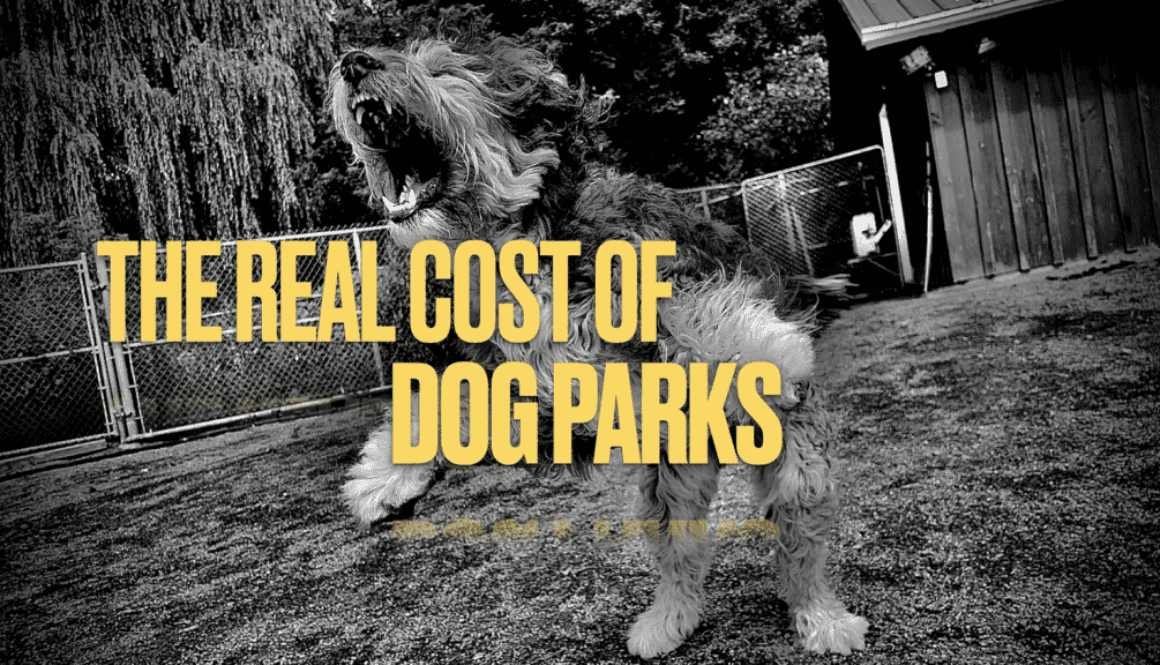 Should you take your dog to a dog park?
Dog parks are a popular place for dog owners to bring their K9 buddies.  They get to romp around and get some exercise and social interaction. Montreal (and its surrounding areas) is a very dog friendly city and as such has plenty of dog parks. So do the surrounding areas such as the West Island, the south shore and Laval.
Montreal Dog Parks
Downtown Montreal has the well known Percy Walter Park. Westmount has Murray Hill, Landsdowne and of course the Summit.  So many burrows with dogs parks for owners to bring their dogs to enjoy off leash freedom and playtime with other dogs.  
The question is should you bring your dog to a dog park?
I am not going to outright tell you shouldn't bring your dog to a dog park. It is of course your decision to make.  However, I will tell you that after training dogs professionally for 3 decades the risks outweigh the rewards in just about any case you can imagine.
What are the risks of going to a dog park with your dog?
I'd invite you to read my emails regarding the impact dog parks have had on dogs who were previously social.  Each day I receive emails telling me how a dog who previously was social is now terrified of dogs as a result of a fight, or an attack. In many instances just being overwhelmed by a dog or group of dogs who meant no harm but came on too strong.  I also receive emails from folks who know their dog has issues with other dogs.  Yet they continued to bring their dog to a dog park in hopes the situation would resolve itself.  Despite their hopes – their dog has now left a path of destruction in its wake – infecting other dogs to mimic the behaviour they were exposed to.  
Don't forget that when you're at the dog park, you are amongst other dog lovers. What that means is training your dog to not jump up is likely to be ignored by others who will find your dog "so adorable" for jumping and reward that behaviour amongst other behaviours you're trying to discourage.
Of course it's all done in the name of fun and they mean well but it comes at a cost and you need to understand how this impacts your training.
TRAINING YOUR DOG TO BE HYPER DOG FOCUSED AND DOG REACTIVE
You also must understand that this is teaching your dog that the ultimate high point of their day is playing with and engaging with other dogs then of course while you're out on a walk, your dog is much more likely to be distracted by other dogs and your training is going to be much more challenging as a result.
Not to mention the fact that you will never be as interesting to your dog as the other dogs are because you train your dog that all play excitement comes from the outside instead of you.
Safe, confidence inspiring socialization between dogs @ the kennel during training and playtime










Various dogs in for training @ the kennel being well matched with similar dogs in terms of energy, playfulness, level of physicality during play.  In other words: Well matched dogs who can be trusted together to be safe and have a good time and positive experience. 
Becoming your dog's real best buddy – means an investment of yourself in terms of time, energy and understanding/addressing  your dog's needs.  Here are some suggestions you can use to take steps in the right direction.
Try playing fetch with your dog
Tug-of-war
Hide and seek
Train your dog in obedience or trick training
Nose games/scentwork?
Take up physical activity with your dog together, such as running/cycling, etc.
All of these things will help you form a bond and relationship with your dog that will only benefit you both for all your years to come.  Have your dog interact with other known dogs who are safe and compatible as a complementary part of your lives and now you'll have a much better relationship with your dog and still fulfill his/her need for a dog buddy.