Montreal's Dog Trainer & Behaviour Modification Expert for over 25 years!
Puppy selection
Successfully raising a well balanced puppy
Puppy training
Obedience training
Help with obedience issues
Help with dogs that trainers and methods failed with.
Consultations for canine
Courses for Confidence building
Socialization
Behavioural problems such as:
Reactivity
Fear Aggression/Avoidance
Separation Anxiety
Aggression
Soiling in the house
Excessive Barking
Proudly helping Humans and their K9's for over 2 decades!  Using scientific, proven and humane dog training methods.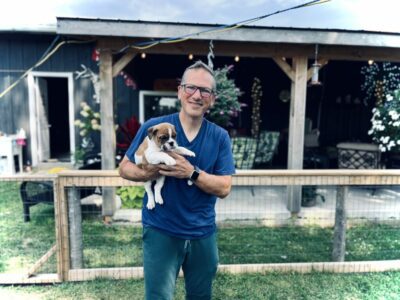 Montreal Dog Trainer Nick Zevgolis of Family K9 Dog Training
Montreal Dog trainer –  Family K9 Dog Training – Has been providing professional dog training services to Montreal Dog Owners dog owners  for over 25 years!  Nick is often called upon by dog owners who have already tried to train their dogs with other dog trainers and not been able to achieve quality results.
In home dog training, one on one private dog training courses at the kennel and in kennel boarding and training options are available.
Professional Dog Training Services Montreal
Referred by Veterinarians, Dog Trainers, Groomers and of course, Dog Owners.
Nick is a big believer in providing the highest level of service to his clients and their dogs. He enjoys relationships with many clients that have spanned over the course working with of multiple dogs.  Family K9 Dog Training guarantees its training programs (except for Puppy Pre School since this is just the very beginning of raising an obedient dog).
Building Human / Canine relationships
Through training, communication and understanding.

Family K9  has proudly earned it's reputation the old fashioned way.  By providing Montreal area dog owners with the best dog training available for over 25 years. Attention to detail , professionalism  and treating  clients and their dogs with the utmost caring and respect. Backing all this up with a  guarantee.
In the 25 plus years that Family K9 Dog Training has been in business there have been a proliferation of new dog trainers that crop up each year.  Anyone can claim to be a dog trainer – please make sure you are working with a professional who has a long standing track record of success in canine training.
Nick is sought after in the training of from across Canada, the US and abroad as well.  See the Dogs trained across Canada and USA page for details.
Obedience Training, Behavioural Modification and Dog Training Consultations












136 reviews on
Jason Wolofsky
2023-11-02
Max, our 3.5-year-old, 70-pound golden doodle, is a gentle giant who's wonderful with kids and not at all aggressive. However, his needy behavior when people come over, his penchant for pulling during walks due to his incredible strength, and his selective hearing when it comes to commands without food were starting to pose some challenges. That's when we decided to seek the expertise of Max Dog Trainer Nick. After a three-week training program, Max returned as a completely transformed dog. While he's still very needy, we now have the tools to correct this behavior. Walking with him has become much more manageable, and when he gets hyper, we can put him in his designated "place." We've heard great things about Nick from friends who've used his services, and the hype is real! We're thrilled with Max's progress, though the real work is ongoing once you're back home. Nonetheless, Nick has armed us with all the right tools, and he's been incredibly responsive via email for any questions or concerns. We couldn't be happier with the results.
After having tried another dog trainer and gotten nowhere I really hesitated to try working with someone else. I was so pleasantly surprised and impressed with Nick and the results that he got from our puppy. He really cares about the dogs and understands how they think and how to get the most from them. He sets up realistic goals and teaches the owners how to use his training in every day situations and they have made the biggest difference to the way that we feel when we are with our dog. We gave Nick a puppy that we were having a lot of trouble with and we picked up a dog that was so well behaved and pleasant to be around. He's a completely different dog….its incredible that Nick was able to achieve this in a few weeks! We are enjoying and loving every second with our dog and owe this completely to the time that he spent with Nick. Nick truly is wonderful and was a real life saver for us 🙂
Great experience and highly recommended
Joane Osei Owusu
2023-10-20
If you are hesitating about whether to have your dog trained by Nick, the answer is simple: just do it. The results are phenomenal! My dog Luna is a 3-year-old Labrador who is very reactive and nervous. During walks, she used to lunge and bark excessively at other dogs, cars, trucks, skateboards, school buses, motorcycles—you name it. I've even memorized my neighborhood's schedule to avoid encountering these triggers. I dreaded walking her because it was not only stressful for me but also for her. Additionally, she weighs 60 pounds and is a strong puller. I've tried front harnesses, back harnesses, gentle leaders, but nothing worked. She often walked me instead of the other way around. Luna was also fearful at home, only trusting me, my brothers, and my dad. Strangely, she was afraid of my mom, which led to her biting my mom several times. My mom gave me an ultimatum: either Luna goes to a shelter or sees a dog behaviorist to get better. Giving her up was not an option as I love my dog with all my heart, but I also wanted a peaceful home dynamic. Both my mom and Luna deserve to feel safe and comfortable. I had previously seen three trainers. One used a shock collar for "discipline," another used hotdogs to distract her, and the third yelled at her. Clearly, none of these methods worked and only made her condition worse. I decided to take the plunge and reach out to Nick. We started with a consultation to discuss our expectations and assess Luna. During the consultation, he took the time to answer all my questions and educate me about Luna's body language. I didn't realize that my dog was giving me signs of discomfort in certain situations. With this new information, I decided that the best option was to send Luna for the 3-week kennel training. Nick kept me updated on Luna's progress, sending pictures and videos. I could see that Luna had bonded with him and was genuinely happy, which put me at ease. During the transfer lesson, Nick took the time to teach my brother and me how to communicate with Luna and how to properly walk her. Luna trusted Nick, and I could see their interactions; to me, that's a true "leader." When we went home, Luna was a completely different dog. She was confident and no longer barked at school buses during our walks, which was a huge success. Now, she even walks up to my mom to be petted in the morning. He even emails me from time to time to ask how Luna is doing. He truly cares about the job he does. I can't thank Nick enough for everything he has done. Luna is truly happy, our family is at peace, our walks are so much more enjoyable, and I can walk her at any time of the day. That's all I could ask for.
If you are hesitating in working with Nick, maybe I can help you make what is ultimately a really big decision easier. I booked a consultation with Nick for my 1.5 year old Kangal x Caucasian Shepherd girl. Within 15 minutes I knew I would be working with Nick in the future. The consultation let me know that my girl was in good hands and she would make strides in her training to make both our lives easier. After 3 weeks with Nick in the board and train program, I had tons of questions which were answered in both the follow up sessions and online. Already my dog and I live a better life because of the foundation we have built. I feel like I myself have become an amateur dog trainer in what Nick has taught me. I have the tools and confidence now to continue working with my dog. I look forward to doing some advanced training with Nick in the future and so does my girl.
Our experience with Nick could not have been more positive. Firstly, Nick is a tremendous person. Second, he really understands how to make his message stick while teaching us how to train our two dogs. Other trainers base their methods on rewarding your dog with treats. Nick gets to the psychology of the dog, helping you understand what dogs need from their families, and how to make your dog feel safe when with you. That's the key. We couldn't recommend Nick more.
Can't recommend enough!!!! I sent my 3 y/o boxer (Tucker) for a 3 week board and train with Nick and I could not believe the results when I got him back. I can finally enjoy my walks with my dog, I am not worried about him running around and barking when people knock on my door. He was always soooo excited/distracted by everything. He had no impulse control. He can finally relax and rely on my commands to know what is expected of him. The work still has to be put in at home to maintain the work Nick did but the rules are so clear now. I am forever grateful that Nick allowed me to have this peaceful and trusting relationship with my dog.
We just finished dog obedience classes with Nick. It is difficult to put into a few words the positive and exceptional experience we had with Nick. We are a couple in our 50s with an 18 year old boy and Kobe is our first dog ever. We took puppy pre school and obedience classes with Nick from family K9 dog training. Firstly, Nick has an undeniable understanding of canine psychology, he has a way of explaining each technique to us with simplicity and clarity and with each practice the results were there. Kobe is a goldendoodle who is anxious and reactive towards other dogs. We were discouraged at times because we do a lot of outdoor sports and each time we became nervous about our dog's reaction. With the training, Nick was able to give us the confidence and teaching necessary to better understand Kobe's behavior and manage his reactivity. Throughout the training there was a feeling of care, support and we were guided with good techniques to improve Kobe's behavior. Our meetings with Nick were always friendly, informative and everything took place with a mixture of humor, which calmed our nervousness. I recommend Nick to anyone looking for a qualified trainer who is an expert in his field and who provides excellent personalized support to his clients! Today, thanks to our training, we are able to help Kobe manage his nervousness and reactivity, which makes our outings more enjoyable! A big thank you to Nick for everything! Ann and Patrick
Tamara Arbeiter
2023-09-11
Nick is simply excellent. We came to him nervous and anxious after our 2yo Bernese Roxy began to show some signs of situational aggression. At the same time we wanted to work on other things - walking, place, leaving food etc. Training was as much, if not more, for us. Nick not only reassured us that Roxy is an amazing dog, but that she is extremely trainable and a pleasure to work with. He was patient, kind, direct and probably the best trainer for our dog. He got right on her level and she adores him. Highly highly recommend!!!
Maryvonne Robert
2023-08-22
Je ne peux que dire merci à Nick pour le support et la confiance qu'il nous a donné envers notre chien Trotsky. Quand nous avons amené Trotsky pour son évaluation, Nick nous a donné l'heure juste sur ce que nous pouvions nous attendre d'un entraînement, avec les défis de Trotsky. Par contre, il nous a bien dit que tous les chiens peuvent s'améliorer. Pour la petite histoire de Trotsky, nous l'avons eu pendant la COVID. Dès son arrivé, Trotsky réagissait à TOUT ce qu'il rencontrait pendant les marches et TOUT ce que nous pouvions déplacer ou ajouter dans la maison incluant de nouveaux humains en visite! Nous avons vu un vétérinaire en comportement canin, une entraîneuse qui est venue à la maison pour finalement commencer une médication mais aucun changement ou amélioration. En février 2022, mon conjoint et décédé et nous nous sommes retrouvés, les enfants et moi avec notre Trotsky, qui est un amour dans la maison, quand nous sommes seuls avec lui, à nous organiser dans notre nouvelle vie. Les enfants avaient peur de sortir Trotsky parce qu'ils n'arrivaient pas à le contrôler. Comme il était hors de question de nous séparer de lui, nous sommes allé voir Nick et maintenant, 1 mois plus tard, Trotsky de retour à la maison, la vie est plus facile. Trotsky arrive à marcher plus longtemps, à garder le focus et à écouter les commandements. Est-ce qu'il réagit encore? Oui, mais beaucoup moins et il arrivera avec de l'entraînement et notre constance, à être un chien plus calme, moins anxieux et agréable à marcher . Trotsky est avec nous pour longtemps et un merci du fond du cœur à Nick pour l'énergie qu'il a mis envers Trotsky et ainsi permettre à notre famille d'avoir de beaux moments avec notre chien à l'extérieur de la maison. Et, on peut maintenant recevoir des gens à la maison 😁 Thank
Training for you and your puppy to get started in a positive direction!
Puppies love to learn and teaching them good habits is much easier than correcting bad ones later on.  This course is designed to help people with puppies aged between 8-16 weeks old get started on the right track . 
Topics covered:
Crate training
Socialization
Housebreaking
How to properly play with your puppy. The most effective ways to do this to promote good habits, motivation, bonding and avoid problematic behaviour.
Avoiding separation anxiety
Teaching manners  such as not jumping, not nipping and not chewing or destroying items.
Light obedience
And much much more
Hands on training with you, your K9 buddy and Nick @ your home or at the kennel!
This course is designed for the owner who would like to have solid, obedience & control of their dog. Commands such as: sit, heel, come, place, leave it & off. Obedience as well as house manners are addressed and the course is taught in six 1-hour lessons.
All dogs should have good manners. Learning not to jump up on people and furniture, not to chew and destroy things which could be dangerous for your dog, not to bark excessively etc ..
Want to refine or take your dogs training to the next level?
Private obedience, coaching to help with your dogs' existing training can be a very useful way to ameliorate your skill set.
Family K9's most comprehensive dog training package!
Three weeks to a happy and obedient companion that you can confidently take anywhere. Your dog will receive daily lessons and playtime with the other dog as well as tons of TLC.
At the end of the dog's training, Nick will teach you how to properly maintain your dog's training for the rest of his/her life.
Nick's methods are gentle and encouraging & help to strengthen the bond between human and dog. Family K9 is so confident in this service that it is backed it with a Lifetime guarantee.
This training package is in high demand with limited space available. Advanced reservations are required.
Nick & Boss – German Shepherd Dog in Training
In certain cases a consultation can prove very useful when we need to asses a dog's behaviour prior to training. Or for those who live very far away a phone consultation is the next best thing to training together in a hands on fashion.
Montreal dog trainer videos
Dog training videos. Covering a wide range of dog breeds and mixes, temperaments, drives. With a focus on helping owners of canine companions meet their needs and goals.
Indy – Border Collie Mix. Trained Fall 2022. 
No more pulling on leash
Focused heeling, communication and cooperation.
From playful dogs who pull on leash to get everywhere quicker to dog reactive dogs.
Dog Training for special needs dogs
Dogs possess very impressive adaptability
Teaching canine manners
Teaching dogs not to jump up, not to bite or bark excessively or steal/destroy  items
Reactive dog Training
Dog Training with an expert who has been providing dog training solutions for 3 decades!  
Help improve your dog's behaviour today!
Facebook reviews of Montreal Dog Trainer Family K9
Poppi in for training fall 2019
Due to the nature of my schedule I am in sessions all day with clients and their dogs. Email is the best way to reach me as I cannot get to the phone very easily. Thanks in advance for your understanding.
Montreal Dog Trainer
Family K9 Dog Training provides the best dog training services to the greater Montreal area and it's surroundings:
Dog Trainer in Montreal:
Ahuntsic-Cartierville, Anjou, Côte-des-Neiges–Notre-Dame-de-Grâce, Lachine, LaSalle, Le Plateau-Mont-Royal, Le Sud-Ouest, L'Île-Bizard–Sainte-Geneviève, Mercier–Hochelaga-Maisonneuve, Montréal-Nord, Outremont, Pierrefonds-Roxboro. Rivière-des-Prairies–Pointe-aux-Trembles, Rosemont–La Petite-Patrie, Saint-Laurent, Saint-Léonard, Ville-Marie, Villeray–Saint-Michel–Parc-Extension,Verdun
Dog Trainer in Montérégie:

Beloeil, Brossard, Granby, Candiac, Chambly, Châteauguay, La Prairie, Boucherville, Vaudreuil-Dorion, Pincourt, Saint-Basile-le-Grand, Saint-Constant, Saint-Hyacinthe, Saint-Jean-sur-Richelieu, Saint-Lambert, Saint-Lazare, Saint-Bruno-de-Montarville, Sainte-Catherine, Mont-Saint-Hilaire, Sainte-Julie, Varennes, Salaberry-de-Valleyfield
Dog Trainer in Laval:
Auteuil, Chomedey, Duvernay, Fabreville, Îles-Laval, Laval-des-Rapides, Laval-Ouest, Laval-sur-le-Lac, Pont-Viau, Sainte-Dorothée, Sainte-Rose, Saint-François, Saint-Vincent-de-Paul, Vimont
Dog Trainer in South Shore Montreal:
 Belœil, Boucherville, Brossard, Candiac, Carignan, Chambly, Châteauguay, Delson, Kahnawake, La Prairie, Longueuil, Greenfield Park, Saint-Hubert, LeMoyne, Le Vieux-Longueuil, McMasterville, Mont-Saint-Hilaire, Otterburn Park, Richelieu, Saint-Amable, Saint-Basile-le-Grand, Saint-Bruno-de-Montarville, Saint-Constant, Saint-Isidore, Sainte-Julie, Sainte-Catherine, Saint-Lambert, Saint-Mathias-sur-Richelieu, Saint-Philippe, Varennes, Longueuil
Dog Trainer in West Island Montreal:
Lachine, Dorval, Pointe-Claire. Kirkland, Greenfield Park, Beaconsfield, Baie d'Urfé, Sainte-Anne-de-Bellevue, Senneville, Dollard-des-Ormeaux, Pierrefonds, Roxboro, Sainte-Geneviève,Île-Bizard
Montreal's Best Dog Training for over 25 years!
Copyright © Family K9 Dog Training 2023
All right reserved.